By Rude Awakening
Baltimore, May.8, stock market trading .- "Stocks keep busting through new highs — make that nine all-time highs knocked out already this year," proclaims MarketWatch earlier this morning. "And number 10 could be on tap today with stocks setting up for a rally after Japan's insane scramble higher. Another key economic report and several earnings will probably shape where we go from here…"

Yes, stocks moved higher after last week's data dump. All's quiet now (no potentially market-moving economic reports loom on the horizon just yet). Yet futures tiptoe slightly higher as I type.

Over the past week or so, the market has systematically removed many of negatives that concerned me moving into the spring months.

Small-caps diverging with the broad market? Not anymore.

Transports underperforming? Nope. They shot right back up to new highs, too.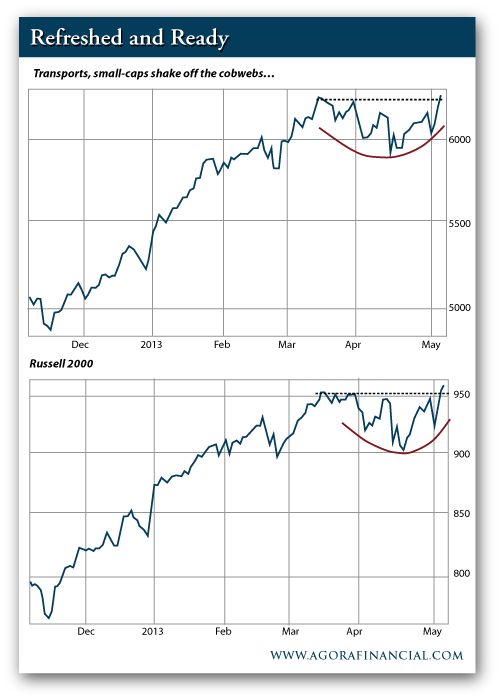 What about the rest of the world?

Instead of the rest of the universe pulling U.S. stocks lower, domestic indexes have acted like a magnet. As we already noted, Japan is screaming higher. The German DAX is rolling toward new highs once again. And emerging markets are beginning to bust out of their collective 2013 skid.

It has been an impressive run. Will it last forever? Of course not. Will it continue longer than you think? Probably.

I've continued to bang the table in favor of the safe plays that have continued to thrash the major averages (the tobacco, toothpaste and toilet paper stocks that are up a collective 18% year-to-date). I wrote last week that these stocks are rampaging higher because investors don't know where else to go. So they've turned safe stocks into a casino.

Don't get me wrong—I still like this group. They aren't cheap. But I don't see them falling out of favor at the drop of a hat. Buy all you want for now.

However, if this market continues to chug higher into the summer, we will encounter more opportunities than the safe consume names I've been keen on this year. All it will take is some smooth sailing...

There's still a lot of fear under the surface of this rally. Investors are worried about another sharp pullback. The longer we experience rallies and the occasional orderly consolidation, the more likely it is that cyclical names begin to attract new interest. I'll have more on these opportunities soon…