By Rude Awakening
Baltimore, May.17, stock trade .- Predicting the direction of the major indexes on a day-to-day basis is an impossible feat. Attempting to play the market's movements by the hour or minute will cause you to go insane (and lose all of your money in the process).

But if you take a step back from the intraday noise, the market paints a picture that can help you time your long-term investments and trades.

Since the broad market bottomed in mid-November, stocks have moved higher within a rising channel. It doesn't take a lot of technical know-how to see the price extremes. The chart clearly shows where the market typically becomes overheated, and where it bounces after a pullback.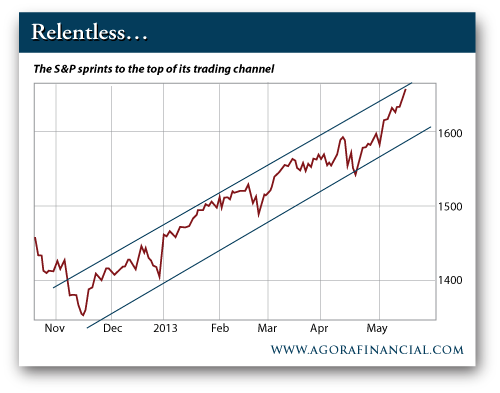 As you can see, the S&P's May rally puts the index at the very top of its trading channel. This is the point where many investors are sucked into the euphoria of the quick move higher. But if you've been paying attention, you know this isn't the best place for a low-risk buy.

Could the market sprint even higher from here? It's possible. But a more likely outcome is a pause at the top of the channel as stocks become overextended. When the market finally does flatten out and move closer to the bottom of its channel, you'll have an ideal buying opportunity.

Remember to keep a close eye on the technology and biotech sectors. Over the past couple of weeks, the rally has broadened and these are two groups that are trying to take the lead. When we do get that low-risk buying opportunity, this should be the first place you look for a new trade…