By The Rude Awakening
Chicago, Jun.20, stock investing .- Pick your poison:

Bonds. Stocks. Emerging markets. Commodities.

Wherever you decide to turn this morning, you'll see red on your screen.

"Bonds and stocks fell around the world," Bloomberg declared early this morning, "with shares in emerging markets sinking the most in 20 months, after the Federal Reserve said it may phase out stimulus and as China's cash crunch worsened. Gold led commodities lower."

Oh yeah, about that whole gold crash…

"Gold's next powerful correction is coming," I warned early last week. "It will be quick and painful—much like the two-day massacre we witnessed just a couple of months ago."

The rout began yesterday. And under the cover of darkness gold futures shed about $75, smashing through support and sending the spot price into free-fall. Silver looks even worse. It hit a low of $19.64 early this morning. It's near $20 now. That's a 7% drop over just a few hours...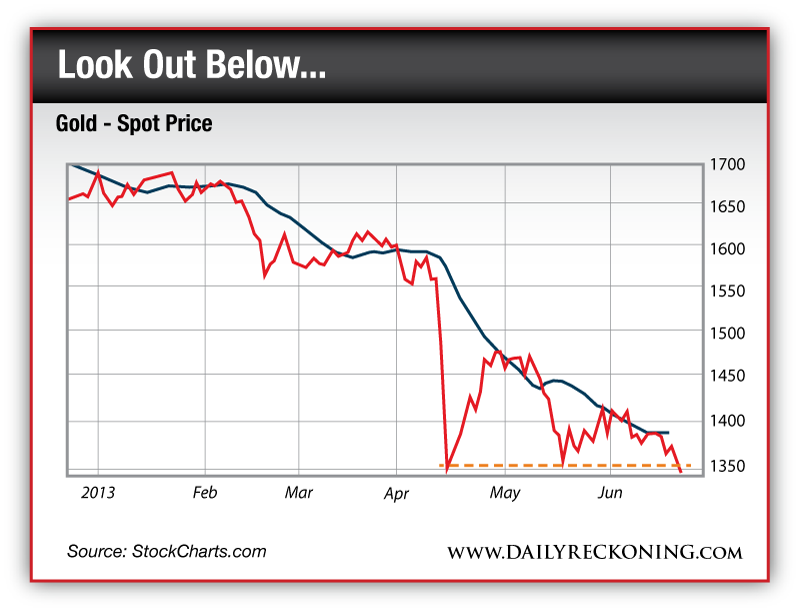 The gold crash was so fast that my chart can't even keep up. The price sits at $1,300 right now after hitting a low of $1,285 earlier this morning.

But $1,350 was the magic number. Now that we've breached this level, we should see the return of downside momentum in the precious metals market.
Expect to see more big down days and sharp oversold bounces in gold in the coming weeks. Don't trust any upside action. The trend is lower—there's nowhere to hide. Since the start of the year, my long-term gold price target has been between $1,100 - $1,000. We'll get there eventually…

For now, look for this wave of selling to possibly lose steam near $1,250. That will bring the price back to levels we haven't seen since September 2010.…