By Wealthy Retirement
Los Angeles, Jun.4, free investment ideas .- The United States is home to more breweries than any other country in the world.

We drink a lot of beer. But it's not as much as some other countries (on a per person basis)... I'm looking at you, Germany, Ireland and the Czech Republic.

Really, Americans are binge drinkers.

Sure, we consume beer year-round, but not at the levels we do during the next few months.

Memorial Day weekend kicked off the start of the big beer-drinking season in the United States. In fact, of the country's top five beer-drinking days, three occur over the next two months.

As Americans, we celebrate our independence with parades, fireworks, cookouts... and massive alcohol consumption.

The Fourth of July is the No. 1 beer-drinking day in this country. Memorial Day is No. 3, with Father's Day No. 4.

For brewers, this also marks the start of the most profitable stretch of the year.

The Perfect Pairing With a Summer Lull

Investors may worry about a "June swoon" for the broader markets, especially now that the manufacturing sector showed a contraction in the month of May.

But there is good news. Use it as an excuse to crack open a beer.

The second and third quarters are the strongest for brewers.

It's a simple function of demand.

When it's cold out, we don't crave a whole lot of ice-cold beer. Maybe in some parts of the world they do, but not the United States.

But when the temperatures outside tick higher, when we're standing around the grill or hanging out at a family gathering, picnic, what have you, there's nothing more refreshing than a cold one, regardless of your preferred brand.

Now, how big of an impact do a couple of months make?

Let me show you...

Beer Play #1:

Anheuser-Busch InBev (NYSE: BUD) is a global monolith in terms of brewers, with a market cap of $154.3 billion. It controls five of the top 10 selling beers in the country. In fact, the company is so big, it uses 15% of the entire U.S. rice crop for brewing beer.

That's why it's amazing that over the last three years, the company's sales growth from the first to the second quarter has averaged 9.84%. Even though the company is spread across the globe, it still experiences strong seasonality.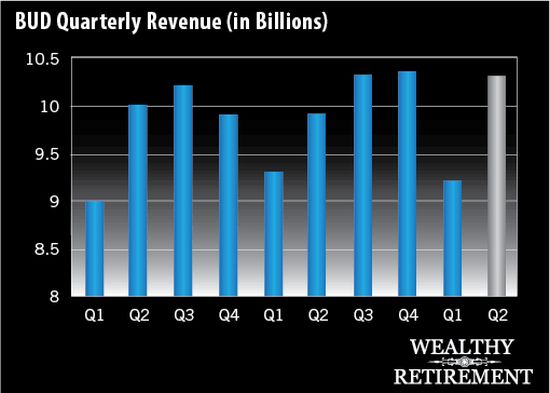 For investors, another piece of good news is shares tend to tick lower during the period of April through June. This year, Anheuser-Busch hit a high of $101.86 on April 10. Today, shares are trading at $91.75 and yield 2.1%.

If the seasonal trend holds true, today's investors will have a gain to toast in the not-so-distant future.

Beer Play #2:

For smaller brewers, the cyclical sales jump is far more pronounced.

At Molson Coors Brewing Company (NYSE: TAP), with its market cap of $9.62 billion, the average increase from first to second quarter revenue during the last three years is a whopping 40.48%.

Seriously. That's huge.

In the first quarter of 2013, Molson reported revenue of $828.5 million. For the second quarter, projections call for revenue of $1.2 billion.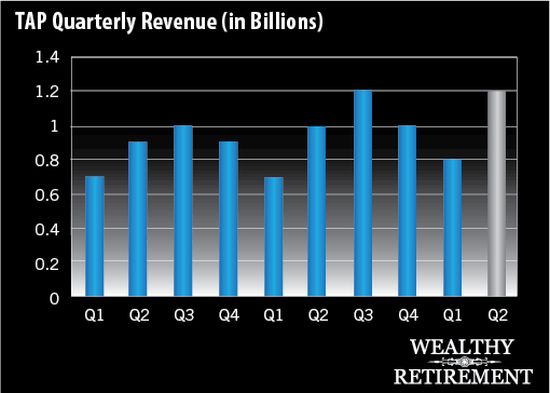 The company's signature brands are Molson, Coors, Miller and Heineken. Miller Lite is the third-best selling beer in the United States, followed by Coors Light, with Heineken at No. 9 and Miller High Life at No. 10.

And much like the price of Anheuser-Busch shares, Molson's shares generally move lower from April to June, which gives us a nice early summer entry point. The stock traded for over $53 in April and May, and today is sitting around $49.50.

At current prices, the dividend yield on Molson Coors is 2.6%.

Beer Play #3:

If you're not into beer, this next company might be for you...

And though Constellation Brands (NYSE: STZ) runs on a different calendar, meaning it reports fourth quarter revenue when most report first quarter earnings, the trend is the same...

Constellation reported fourth quarter revenue of $695.9 million and its projected first quarter revenue stands at $858.2 million - a quarter-to-quarter increase of 23.32%.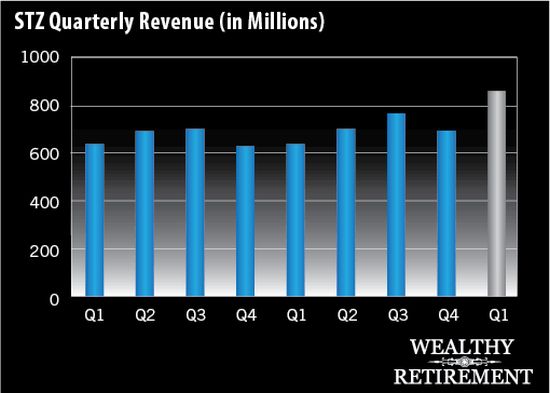 Constellation sells the Robert Mondavi labels of wine, Arbor Mist and SVEDKA vodka, as well as other spirits and wines.

The company's shares have been on a historic move since its decision to purchase the Corona label in the wake of Anheuser-Busch's ground-moving deal to purchase Mexico's Grupo Modelo. To make sure its competitor doesn't dominate the U.S. beer market, Constellation bought the No. 1 beer in Mexico and got itself a 4% slice of the U.S. beer market.

The Corona deal makes Constellation the third-largest beer company selling to American consumers.

Constellation doesn't pay a dividend. But the addition of Corona helps its prospects as a great deal.

Go Ahead... Get Tipsy

On a global scale, alcohol - including beer - consumption is growing.

Even though Western consumption has stagnated, major markets like China have seen alcohol consumption surge more than 5.5% per year over the last five years. And the growth is expected to continue at that rate over the next five years.

In fact, the top-selling beer in the world is probably one you've never heard of: Snow Beer.

With trends like these, it doesn't matter if the broader market continues to push higher from here or if we see a summer lull. We don't care if the market gets tipsy.

There's nothing but profits for beer companies in the months ahead....