By The Rude Awakening

Baltimore, Jul.18, swing trading .- At a glance, a 6 point slip in the S&P is nothing. Yesterday's session was a sleeper. A drop in the bucket…

After all, stocks have been surging higher. Even factoring in yesterday's small retreat, the broad market is up about 1.5% over the past five trading sessions.

However, if you look closely, you will notice some turmoil under the market's calm surface. Momentum stocks—the prized trading vehicles that have been so generous to investors over the past several months—slipped and fell hard.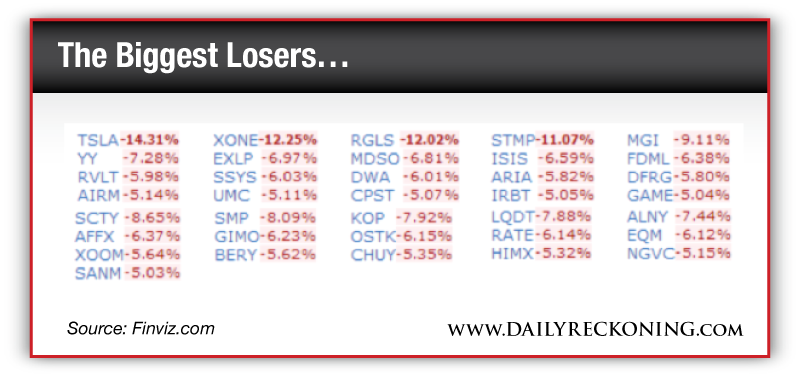 Market leader Tesla? Down double-digits. Those solar stocks that have been so strong? Shellacked. 3-D printers even took a big hit…

Before yesterday's momentum meltdown, these are the stocks that would have immediately come to mind as the most obvious pockets of strength in the market over the past several months. They were the names everyone wanted to buy. Now, anyone late to the party is sitting on painful losses.

This systematic dismantling of the momentum names tells me traders are getting nervous. They see the quick, 100-point run-up in the S&P on their screens and they're ready to lighten up. Their stops are triggered, so they take the cash and wait on the next opportunity. Nothing wrong with that.

Hopefully, this mini-panic will prompt some consolidation. After a big run, we need to see the market establish new support. Futures are higher as we approach the bell thanks to more dovish Bernanke testimony. A fade lower today would be a great start toward finding a new floor. I'd hate to see the pressure build and build without any release. That's when things get really tricky…

Watch carefully for any names that stand out from the crowd over the next couple of days. If we do see continued selling in the momentum darlings from the first half of this year, a bigger rotation might be underway. You have to be ready to switch horses if that's the case. Don't allow anxiety turn into denial if the drop accelerates. Act decisively and stick to your trading plan.
...