Michael Bloomberg was affiliated with Salomon Brothers before launching his own firm Bloomberg News and later becoming mayor. (Photo credit: Wikipedia)
By Rude Awakening

Baltimore, Jul.9, stock market trading .- Bonds are down. Gold is crushed. Commodities are suffering across the board. Emerging markets have tanked.

And the pros? They're not doing much better.
"Hedge funds posted their biggest monthly loss in more than a year after signs that the U.S. Federal Reserve may scale back its unprecedented stimulus triggered a selloff across global markets," Bloomberg reports.
That's right. The hedgies are falling behind. Again...
Hedge funds lost an average of 1.4% in June. That's the biggest monthly loss for the group since May 2012, according to Bloomberg. But don't worry. This is nothing new. Bloomberg continues...
"Hedge funds have trailed the MSCI All-Country World Index for five of the past seven years as managers have struggled to predict markets amid intervention by central banks across the globe."
Once again, we have a case of the smart money crowd trying desperately to outsmart the markets. Unfortunately for them, this hasn't worked for years.
But that's not terrible news for you. Quite the opposite, actually.

I know it's trendy to bash the system. Everyone hates the big banks, rich fund managers, central planners and how the market has recovered while the economy remains sluggish. I get it. There are plenty of reasons to be pissed off over the state of the world these days.
But you're not completely helpless.
Even if you keep your investing simple, you should remain way ahead of the herd (and maybe even the smartest guys on The Street).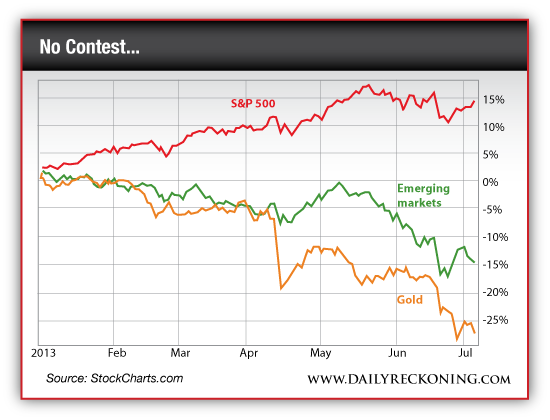 The S&P 500 is up more than 14% year-to-date. It's June performance? Down a little more than 1.5% (remember -- this was the "worst month" for hedge funds in more than a year). Just a simple investment in the S&P 500 SPDR and $5 in commissions puts you way ahead of everyone else in the world...
While the financial networks continue to air arguments over bonds, the gold crash and whether or not emerging markets will recover anytime soon, your focus should remain squarely on U.S. stocks. Even during the June swoon, this is the place to be...
.