Ben Bernanke (lower-right), Chairman of the Federal Reserve Board of Governors, (Photo credit: Wikipedia)
By The Rude Awakening

Washington, Jul.12, stock investing .- The Fed accommodates, and markets around the world celebrate.

Big Ben lit a fire under the futures market after the closing bell yesterday. Stocks, gold and everything in between surged higher as Bernanke answered questions.

For the past month, markets screamed for a little bit of clarity. They got it—along with an un-ceremonial burial of any hawkish thoughts that might have surfaced over the past several weeks…

Here's your 5-second review:

Tapering? Yeah, soon enough. But interest rates will stay as low as possible. And everything remains tied to unemployment, which is a bit sluggish. The end.

Yet even before yesterday's Fed circus, the market was painting a new picture for us. The broad market defied its summer downtrend and sparked a massive rally. Now, just a few days later, stocks are again knocking on the door to new all-time highs.

"The 'new' market picture isn't a whole lot different from the old one," says my colleague Jonas Elmerraji. "We're still seeing a set of higher lows in the broad market from November. It shouldn't come as a big surprise that we were much more likely to see a correction than a major change in trend [Ed. note: Jonas lays out his second-half trading strategy in his exclusive macro report. Join his 'trading challenge' to gain access]."

Jonas continues...

"One of the few absolutes in the world is that trendlines do eventually break. Now we've got a fresh one in place..."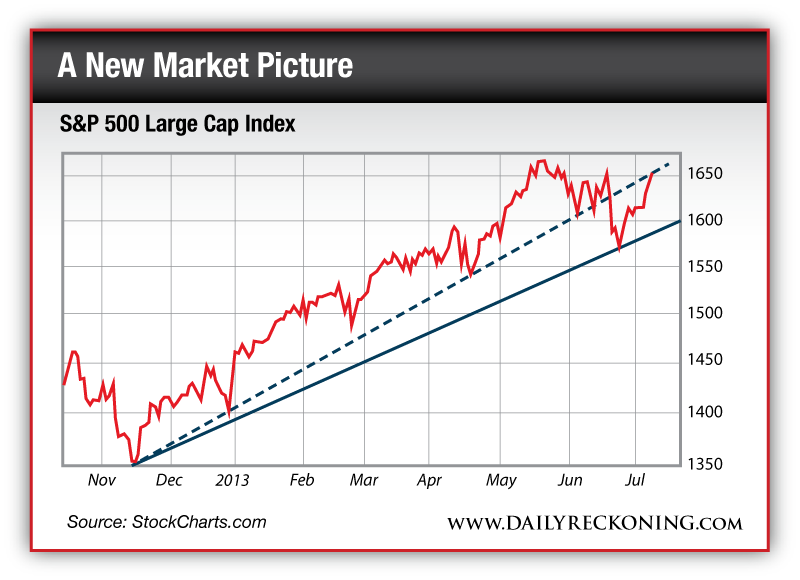 Futures are pointing to a huge open today. We could very well see explosive follow through. New all-time highs are not out of the question.

However, there's no need to chase stocks here if you feel like you're underexposed. Let the market come to you…
.