By Rude Awakening

Baltimore, Aug.12, top stocks .- The stock market and electric cars have a lot in common these days. I'll explain what I mean in just a minute. But first, as I sift through the financial headlines this morning, I'm reminded of an old Wall Street adage…

Bears make headlines. Bulls make money.

In other words, I'd be more inclined to think this market is heading for a substantial crash if that wasn't the default opinion right now…

Here's how they're playing the game: Financial pundits and gurus are screaming about an impending crash (as they've done all year, of course) while analysts are quietly raising their end-of-year forecasts.

"At the beginning of 2013, when the S&P 500 was at 1426, none of Wall Street's leading prognosticators had 1700 on their radars," reports the Wall Street Journal. "Now, at least seven strategists expect the index will finish above 1700 by year's end."

So the analysts and strategists play catch-up. And the fund managers once again find themselves well behind their benchmarks. Everyone is cautious. Not exactly the recipe for a catastrophic plunge…

Of course, the bearish chatter will get louder if the market dips more than a few percentage points this month or the next (which is entirely possible). Your job is to keep a level head and search for opportunities while everyone else is loading supplies into their doomsday bunkers.

Which brings me to Telsa— an apt metaphor for the broad market today.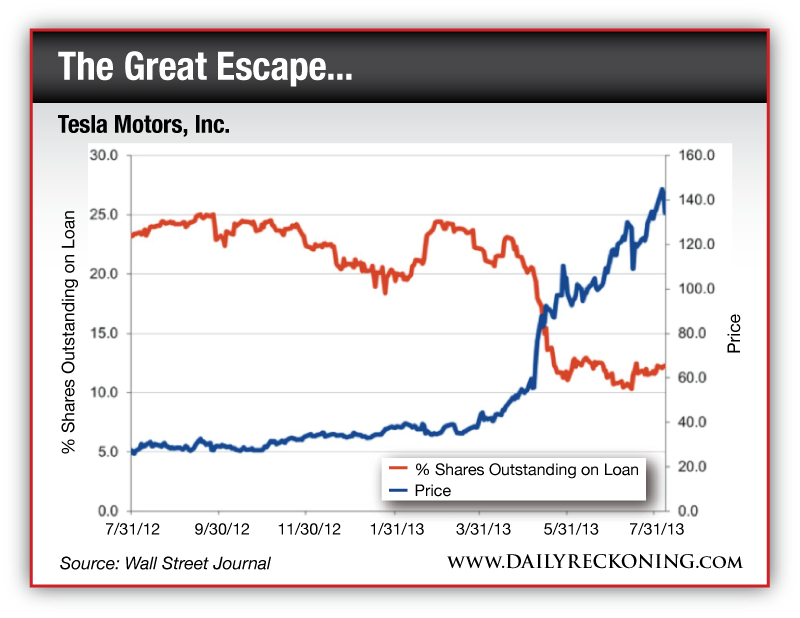 Toward the end of last year, Tesla shares were considered ridiculously overpriced by many analysts and investors. Short interest was close to 25% just as the company started ramping up production of its well-received Model S sedans.

When the stock hit $40 back in April, no one expected it to see challenge $50. Yesterday, it closed above $150. [Ed. Note: My colleage Jonas Elmerraji had his readers in on Tesla from the very beginning. Click here now to see how you could start making these kinds of gains today.]

Tesla marched higher—stomping out the shorts in the process.

There's no shortage of bearish sentiment, fear, and caution bubbling under the surface of this market. Use it to your advantage as stocks consolidate this week…
…