English: Flag of San Francisco Español: Bandera de San Francisco (Photo credit: Wikipedia)
By The Rude Awakening

Baltimore, Aug.7, stock advice .- The much-heralded housing recovery is over.

No, you won't see a bunch of new foreclosures in your neighborhood. And I doubt the value of your home will plummet. But the big, first phase of the housing market's under-the-radar rise is finally cooked.

That means no more easy gains from homebuilding stocks. These names were great buys in 2011 and 2012. But right now, they just aren't performing.

The simple fact is that expectations have run wild. The rebound in the real estate market isn't a secret anymore. People all over the country can see the pickup in sales and construction in their respective towns. They've bet big on the homebuilding stocks. Now, it's a crowded trade.

"While they have made great strides in the past year, home-builder stocks have become volatile recently as investors deal with mixed economic housing data, rising mortgage rates, and, in the cases of a few overheated markets such as San Francisco, worries that the market is setting up for another painful collapse," reports MarketWatch.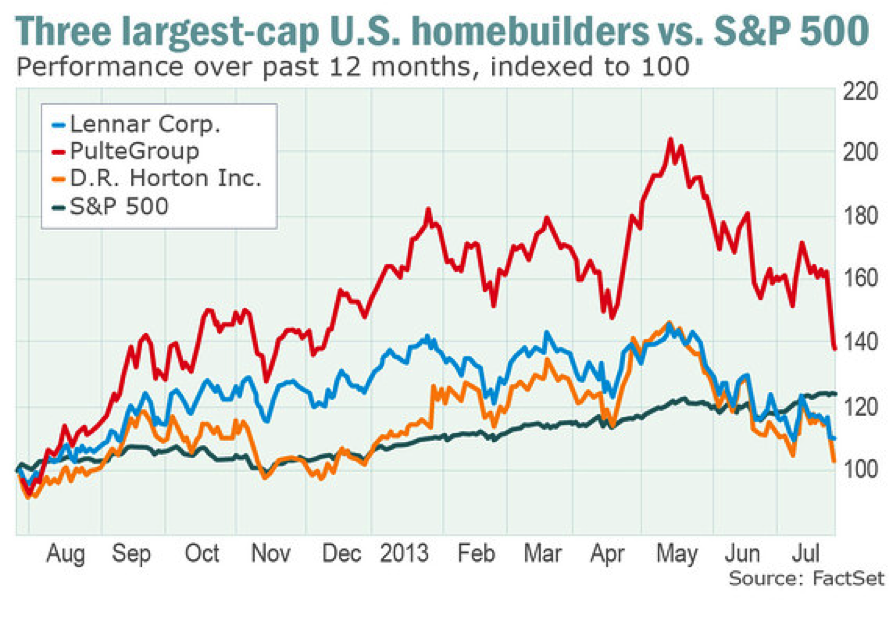 While I think concerns of another collapse are overblown at this juncture, it's not a stretch to say that homebuilder names could keep falling for some time. In fact, the broad market is absolutely trouncing the housing sector stocks right now. The iShares Dow Jones U.S. Home Construction ETF has dropped 10% over the past three months. It's up less than 6% on the year, compared to a 20% gain in the S&P 500.

Again, I don't think we're headed toward another blow-off top in the real estate market. Remember, homebuilders have been sitting on their hands for years. The number of completed new homes for sale remains at the lowest level ever recorded in 40 years of National Association of Home Builders data. You'll have a chance to find value in homebuilder names somewhere down the line.

But right now, investors are looking elsewhere for gains. And unless you're extremely patient and willing to sit through another leg lower, you should ditch these stocks until they begin to show signs of life once again…