By Rude Awakening
New York, May.21, trading stocks .- How do we explain 15%?"

I caught that quote yesterday afternoon from one of the financial news anchors as he attempted to decode the recent market action. It's all too clear that what we've experienced during the first five months of the year feels foreign to everyone living in a post-financial crisis world.

For most investors, it's weird to think of stocks as their go-to investing option. For the past decade, it's been bonds, gold, commodities, real-estate—anything but stocks, please. Now the market's up more than 15% on the year.

Despite this year's performance and triple-digit gains in the broad market since 2009, it finally feels like we're just moving beyond the "disbelief" phase of the rally. It took a while for it all to sink in. Still, there are many investors who can't wrap their heads around higher prices. That's probably why today's top story on Bloomberg Businessweek is a report explaining why McDonald's is unable to offer Egg McMuffins all day. As it turns out, most people are more interested in late-day breakfast updates than stock market news…

However, this doesn't change the fact that the market continues to roar higher almost every week.

Boring, safe stocks were in charge during the early months of the year. Dow components led the way. Investors wanted consumer stocks. The bigger, the better…

This phenomenon was most visible in April. The Dow ramped higher, while small-caps, transports and the broad market diverged.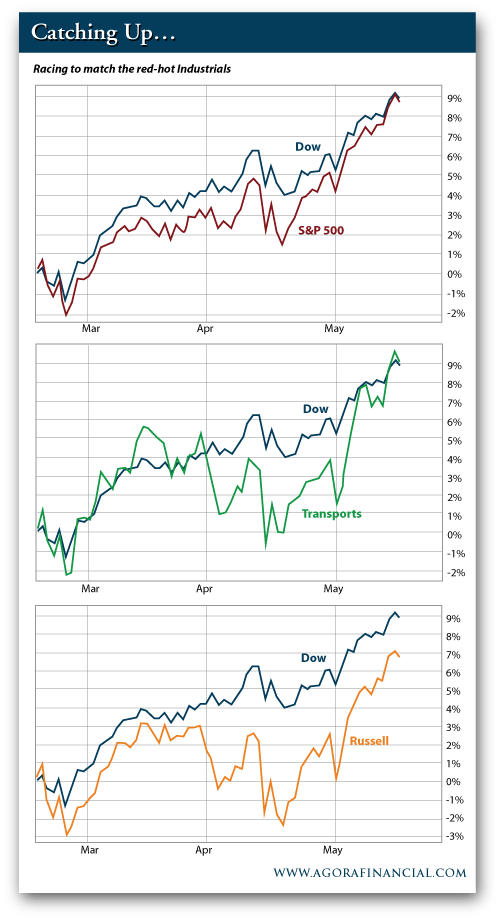 That all changed in May. The S&P caught a bid four weeks ago and hasn't looked back. Its gains have now matched the Dow on the year. Transports went vertical earlier this month to catch up with the Industrials. Small-caps have the most work left to do since their April swoon. Yet the Russell continues to close the gap with the Dow as it nears 1,000 for the first time ever this week. One more push and the two will be even on the year…

It's clear that the rally is broadening. The gains are trickling down from the Dow. That's healthy action. It opens up more buying opportunities aside from Johnson & Johnson. Energy names have perked up. So have technology stocks. Look toward these sectors for potential buys in the coming days and weeks…
.