Veolia Environnement (Photo credit: Wikipedia)
By Wealthy Retirement
Boca Raton, May.2, best stock .- With higher-than-average yields and steady businesses, utilities are known as a dividend investor's friend. But with the recent run-up in dividend stocks, it's tough to find a utility with a great yield these days, especially in the United States.

But if you're willing to put on your beret and eat some stinky cheese, join me as we journey to gay Pa-ree for a look at water utility Veolia Environnement (NYSE: VE).

With a dividend of $0.78, Paris-based Veolia pays a robust 5.9% yield. But the key question for dividend investors is, how likely is it that the company will pay that same amount (or more) next year?

Unfortunately, the answer is tres petit.

As you know, one thing I look for in a dividend payer is a consistent (and preferably growing) dividend. As you can see on the chart below, Veolia's payout has been all over the place. Most recently, it cut the dividend to $0.78 from $0.92.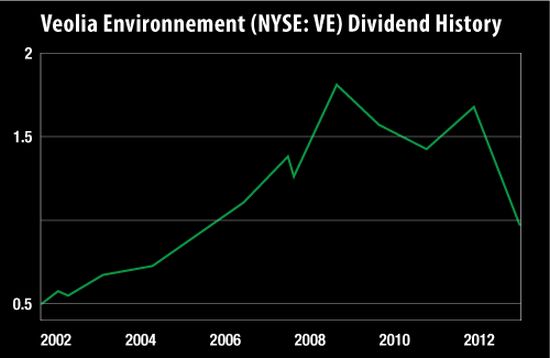 Source: Dividata.com
In 2012, operating cash flow declined 3.1% to €2.851 billion. Capital expenditures totaled €2.3 billion, so free cash flow was €549 million.

Meanwhile, Veolia paid out €546 million in dividends for a payout ratio of 99%.

That's way too high.

I like to see a payout ratio of 75% or lower. A 99% payout ratio means the company is sending to shareholders almost every euro it generates in cash.

It also means that if cash flow decreases, the company must dip into cash to pay the same dividend.

But because the dividend has been cut, Veolia will likely pay about €355 million worth of dividends in 2013. If free cash flow remains constant, the payout ratio would be a more respectable 64%.

Unfortunately, net income is expected to fall this year. A shrinking bottom line will likely have a negative impact on cash flow, which would keep the payout ratio elevated.

The company also pays its dividend just once a year in May, so we'd likely have to wait a year for an indication on what to expect for 2014.

Considering Veolia's track record of cutting the dividend, lower expected earnings and high payout ratio, my reaction is "mon dieu!"

I expect another dividend cut in the next 12-24 months....