By Rude Awakening
New York, May.2, top stocks .- It's official... Now that April's in the books, the S&P 500 is sitting on a 6-month winning streak. That's six higher monthly closes in a row--an impressive display of extended momentum not seen since the market shot off its credit crisis lows in early 2009.

Of course, you know all good things must come to an end. This winning streak is no different. Eventually, a few red months will find their way into the mix. That's just the way it goes...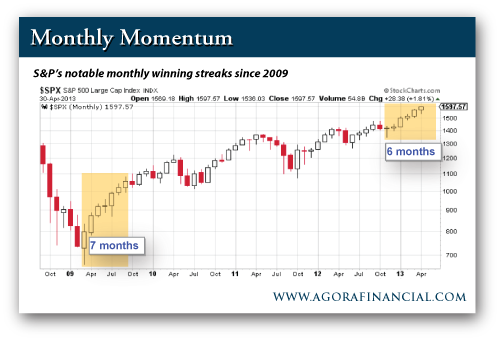 To keep from getting blindsided by an abrupt pullback, it's necessary to maintain a critical eye toward the market at all times. Over the past couple of weeks, I've discussed how some breadth and sentiment indicators have flashed a few warning signs. But I didn't say it was time to abandon ship just yet. That's because price has yet to telegraph a sell signal.

Apparently, some clarification is required...

"Historical, and fundamental data say the market is due for a correction," writes a slightly confused reader. "A week or so ago you were urging caution due to the lopsided bullishness in the market... This feels like Lucy is ready to pull the 'technical' football away. I think you should listen to yourself, or at least yourself of last week."

You're referring to my concerns regarding the Barron's Big Money poll and it's big cartoon bull cover--the one that revealed 74% of polled hedge fund managers were bullish over the next 6-12 months (the most lopsided results in 20 years, mind you).

Yes, this information is important. File it away with some of the other concerns I've raised. But don't run and hide just yet. The market has fought through its negative divergences and other concerns so far...

"It goes without saying that you can't time buying and selling with a magazine cover," I wrote. "But judging by the people who manage enough money to move the markets (keep in mind, they've been dead wrong for months) it's time to get cautious."

There you have it.

Get cautious. Don't chase the garbage names that might make a run. And stick with the big stocks that have outperformed the market. Price will tell us when it's time to cash out...