Bull and bear in front of the Frankfurt Stock Exchange (Photo credit: Wikipedia)
By The Rude Awakening
Baltimore, Jun.13, investment opportunities .- What were you doing last summer?

No, I don't want to hear about your road trip to the world's largest ball of string…

I'm talking about what you were doing in the markets. How did you feel about stocks? Were you a buyer as the market put in its most significant bottom since the 2011 eurozone crisis?

If your answer is no, then I have to ask: What were you thinking?

My guess is you were taken in by the flood of negative sentiment that permeated every corner of the markets. Stocks had just coughed up all of their gains for the year. Analysts and pundits feared the worst.

Here are some of my notes from June 2012:

After expecting earnings growth in S&P 500 stocks as recently as last month, analysts are pumping the breaks and getting bearish...

The negativity is quickly trickling down to consumers. Yesterday's consumer confidence report revealed a 10% jump in consumers who believe stock prices will decline in the near future. In only one month, the percentage of bears went from 32 to 42. That's a massive increase in just 30 days…

At the time, I noted that the "bear trade" was looking crowded. Pessimism was reaching its outer limits. It was becoming clearer by the day that a turning point was near…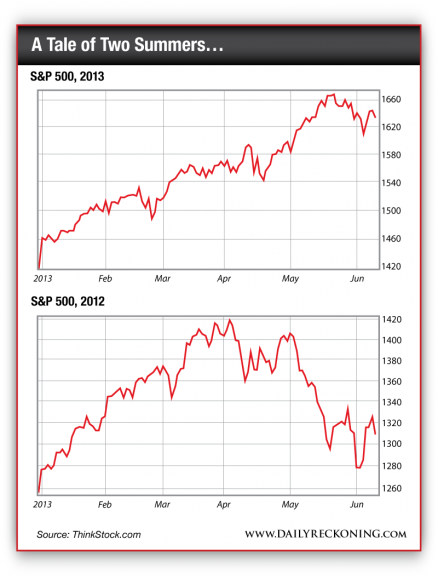 This year has been a little different (so far). In the U.S., stocks have held on to most of their gains. But even though the market is sitting near all-time highs, negative sentiment remains prevalent. If you told me one year ago that the S&P would rise more than 300 points, I would have believed you. But if you said that the push to new highs would not massively impact bearish sentiment, I would have laughed.

Yet that's essentially the situation today. Bullish sentiment among newsletter writers fell to 43.8% this week, according to Bespoke Investment Group. That's its lowest level since December. Almost everyone is waiting for a big correction…

I still believe we're in for some summer choppiness. The market needs to churn. But I'm not anticipating a major shock to the downside at this point. It's safe to hang on to the names you bought earlier this year.