By Wealthy Retirement
Los Angeles, Jul.23, stock trade .- I grew up reading a lot science fiction. But some of my favorites were Isaac Asimov's I, Robot short stories.

Asimov's vision of a future where man and machine worked side by side... Where machine-robots powered by "positronic brains" and beholden to the Three Laws of Robotics were always cobbling together an uprising or causing some sort of havoc.

Of course, heroine Dr. Susan Calvin - a robopsychologist employed by the massive U.S. Robots and Mechanical Men, Inc. - was always on call to unlock and put a halt to the variety of robotic destruction on the precipice of unfolding.

Asimov began penning these stories 74 years ago.

Today, the robots of Asimov - thinking, nimble, humanoid machines - are still just fantasy. But robots have come a long way.

They are in our homes. They are in our factories. They are in our hospitals and on our battlefields, fighting alongside human soldiers. And they'll be increasing their presence in our fields.

They're doing the jobs we no longer wish to do. Monotonous, back-breaking, low-paying positions that few are interested in - or apparently desperate enough to apply for.

Take for instance Harvest Automation's HV-100 - more affectionately known as "Harvey." These small little robots are designed to move plants in a nursery and space them out properly as the plants get larger and larger.

This is something done by humans for now... But not for long. "Harveys" are inexpensive, can work regardless of the weather, and are projected to pay for themselves within two years.

There is approximately $21 billion in the United States and Europe that's spent inefficiently each year in the agriculture sector... Harvest Automation thinks its robots can replace $8.4 billion of those labor costs.

This is an example of small, durable robots that could have a considerable impact.

Each year, robots have a larger presence in our lives... And if you think there's going to be a hiring boom because of the ongoing American auto industry revival, I think all you need to do is look at the factory at Tesla (Nasdaq: TSLA). There are lots of shiny, new robots... and very few people.

So, let's take a look at two robot manufacturers on opposite ends of the spectrum and the opportunities they offer investors...

Building Cool Stuff... Making Money

This small-cap robotics company has a simple mission statement:

"Build Cool Stuff. Deliver Great Products. Have Fun. Make Money. Change the World."

The company was founded by a brain trust of MIT roboticists in 1990, and since then has sold more than 8 million robots worldwide, including 5,000 unmanned ground vehicles for military use.

And a lot of those 8 million robots are in our homes, performing small but important everyday tasks we don't necessarily enjoy... Like vacuuming.

IRobot Corporation (Nasdaq: IRBT) is still small, sporting a market cap of a mere $1.07 billion. But shares of the company have been on a tear this year, rising over 100%.

On a side note: Harvest Automation was started by several iRobot employees... So, although still private, it's a company to watch.

On Tuesday, iRobot is expected to report earnings of $128.9 million for the second quarter, which is a 15.66% increase year-over-year.

For 2013, full-year revenue is projected to be around $491.2 million - a record for the company - and an increase of 12.6% from 2012. Plus, since 2010, revenue for the company is up 22.5%.

IRobot's wheelhouse is a catalogue of smaller household robots that handle chores:
The Roomba (6 million+ sold) vacuums.

The Scooba washes floors.

The Mirra cleans pools.

The Looj cleans gutters.
It's hard to fathom, but the company's revenue from its Domestic Home Robot segment continues to grow at a blistering pace, rising 44% year-over-year in the first quarter.

And this is in large part due to iRobot's continued expansion into international markets, which made up 66% of the Home Robot segment's entire revenue in the first quarter.

These domestic robots make up the lion's share of iRobot's entire revenue - projected to be between $435 million and $440 million this year, while defense and security robots will bring another $45 million to $55 million.

The company's AVA platform of mobile robots is already in hospitals, providing a remote presence for doctors in patient care. And its newest version - the AVA 500 - which will come out next year, is designed for commercial use, allowing remote presence of manager's in offices or in factories.

On the defense, military and police force side, iRobot provides a number of robots for disarming bombs and other explosives, as well as the 110 FirstLook - a throwable robot - that can be chucked through a door, window or other opening for eyes on the ground.

The PackBot is a versatile, battlefield robot that can disarm bombs, search buildings, tunnels, caves and bunkers, and screen vehicles. Earlier this month, iRobot was awarded a four-year, $30 million contract with the military for its PackBot. And in May, the company was awarded a $7.2 million contract with the Brazilian government to provide PackBots for security and defense.

So although the domestic robot segment will be the main driver for iRobot - particularly as it continues to expand internationally - it's also growing its market in the defense sector.

A Beaten-Down Robotics Play...

There's another robotics and automation company that just hitting a major milestone in robotics sales as well... It's sold more than 100,000 robots in the Americas and more than 250,000 worldwide. This cements it as leading commercial robotics supplier.

Founded in 1956, Japan's Fanuc Corporation (OTC: FANUY) sells a wide variety of robots for a wide range of industries, from aerospace & defense to consumer to foundry use. It's larger than iRobot, with a market cap of $4.92 billion.

It is one of the world's largest suppliers of industrial robots and factory automation equipment.

But the last couple of years have been trying for Fanuc, with revenue showing an undesirable bell shape...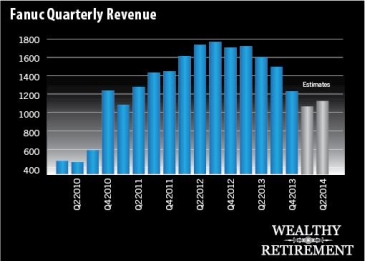 And year-to-date, shares of Fanuc are down more than 20% as the company lowered full-year guidance.

But there are some positive signs...

As a whole, 2012 for Fanuc was plagued by the ongoing drag in Europe and some weakness in China. But its Robot Group sales rose 3.8%, driven by strong demand by from the automobile industry in the Americas and Japan. In fact, Fanuc's Robot Group sales accounted for 23.9% of entire consolidated net sales for the company in 2012.

Fanuc's robots are workhorses: spot welders, heavy payload workers for the automobile sector, bin pickers and packaging robots for pharmaceutical, medical device and snack food companies.

When we envision a factory of automatons, these are the robots we see.

And there are a lot of benefits to using these robots... Foxconn, with its widely reported worker problems over the years, continues to explore automation alternatives. And Apple (Nasdaq: AAPL) has pressured Foxconn to look into buying robots from a company like Fanuc, instead of trying to develop those robots in-house.

Robotics and automation continue to develop and expand their footholds in our lives. They're also becoming more inexpensive as technology progresses.

That means they'll find new roles and human workers can be transitioned into new roles themselves. Just think, it wasn't that long ago that the majority of this country worked in agriculture and on factory floors...

At the start of the 1900s, around 70% of Americans worked in agriculture. Today, it's about 2.5%.

At the end of the 1950s, manufacturing accounted for 28% of the country's economic output. Today, it's less than 12%...

Those numbers will continue to dwindle as automation and robots take over more and more of these jobs.
...