By The Rude Awakening
Baltimore, Jul.21, online stock trading .- It's been a while since Main Street displayed any appetite at all for stocks. That might change very soon… Thanks to the market's stellar performance this year, folks are finally beginning to jump back into the market.
"Investors have poured more money into US equity funds this week than at any time since the 2008 financial crisis," reports the Financial Times, "with the value of the benchmark S&P 500 index soaring to a record $15 trillion."

Don't let these numbers fool you. This isn't a case of an overheated market attracting sucker's bets from the masses. Far from it. In fact, the move back to stocks is probably in its infancy.

While steady returns attract new investors this summer, there's still a long way to go before we reach anything close to euphoria. Just look at the numbers…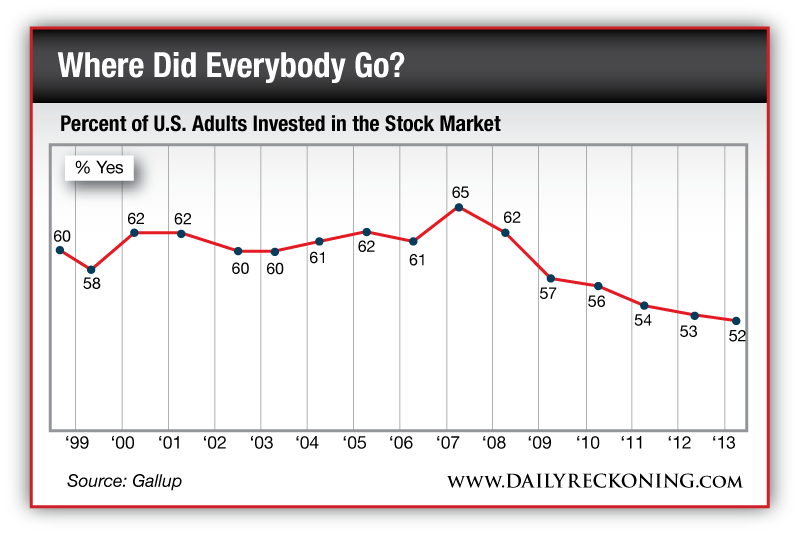 "Despite strong gains in the stock market over the past year, and the Dow Jones Industrial Average's reaching record highs… stock ownership among U.S. adults is at its lowest level in Gallup trends since 1998," Gallup reported as the market first broke through to new highs back in May. "Just over half of Americans, 52%, now say they personally, or jointly with a spouse, own stock outright or as part of a mutual fund or self-directed retirement account."

That's a lot of money on the sidelines. Or in bonds (which people are dumping—and will most likely continue to dump in favor of equities).

Equity fund inflows—which had been left for dead for years—will help propel the market during the second half of 2013. Any way you slice it, performance attracts investors. While the formerly reliable gold and bond sectors falter, stocks will continue to pick up the slack.